By Maggie Dunne
I am sad to report that in 2009 suicide officially became an epidemic on the Oglala Lakota Sioux Pine Ridge Reservation in South Dakota. In December of 2009, Oglala Lakota Sioux President Theresa Two Bulls declared an "Oglala Sioux Tribal Suicide State of Emergency." This action was taken at the close of a year that brought an unprecedented surge in the number of tribal suicides, and at the end of a month that saw four young tribal members voluntarily end their lives.
Last month, a newly appointed principal of a K-12 school told me about the frustration that he faces, in part, due to the recent surge in teen suicides. Currently, the school's attendance averages only 25% of the student population. His under-funded school does not have enough textbooks to circulate to its students and morale is low among students and faculty. He reported that the wave of teen suicides has many children questioning the value of their lives and continuing in education. He asked for additional support for his students.
If the suicide crisis currently faced by the Oglala Lakota occurred in almost any other community in the United States, undoubtedly, it would be one of the nation's top news stories.
Why are the children in crisis? Lakota children are losing hope because the economic and social obstacles to advancement that they face appear insurmountable. The poverty is spread out over a territory roughly the size of Connecticut, mass transportation is limited, access to clean water is limited, unemployment exceeds 60%, there is no sanitation system, no animal control, and most residents cannot afford internet access, computers, or cars. The Lakota lack essential resources and need aid in almost every aspect of life.
But these problems do not end at the edge of the Reservation. The Justice Department reports that one of every three Native American women will be raped in her lifetime. Amnesty International reports that non-Native men perpetrate 85% of the rapes. These appalling statistics reflect systemic problems on the Reservations and in the surrounding communities, where apparently, Native American women are viewed as easy prey.
As an advocate for change in Government policy with regard to indigenous communities and as the Founder of an entity that provides aid to children living on the Reservation, the Lakota Pine Ridge Children's Enrichment Project, Ltd. (LPRCEP), I am repeatedly asked what one person can do to help the Lakota and similar populations struggling to survive in extreme poverty. First and foremost, my answer is that we can all help by spreading the word to those who are uneducated.
If you are wondering where to start, the answer is pretty much everywhere – most of our country has no idea that such extreme conditions exist within our nation's borders, let alone the daily obstacles faced by the Lakota on Pine Ridge, where the average life expectancy reportedly is the lowest in the Western Hemisphere, aside from Haiti. History has shown that no significant government action will occur, however, unless there is awareness and pressure is brought upon our elected officials.
Although the Obama Administration has taken some action to support impoverished Native American communities (by increasing funding for law enforcement and some other programs), much more is needed. The Oglala Lakota Sioux on Pine Ridge face economic, social and infrastructural barriers that they cannot fix on their own. If people cannot get to work, and do not have water, heat, adequate health care, or shoes and coats suitable for the extreme weather conditions on the Reservation, then their basic needs of life are not met, and consequentially they are not able to cross over the poverty line. The effort to bring the residents of Pine Ridge and similar marginalized populations over the poverty line demands a huge investment of money, time and energy.
It is time for the United States government to step up and "bail out" the Oglala Lakota and similarly situated Native American communities in need of essential support, to enable them to become financially independent. The money invested today to build essential resources, will pale in comparison to the lives and money saved when the Lakota are able to fend for themselves. The Lakota are not losing their homes, yachts or Wall Street jobs; they are losing their lives.
The Lakota people say in a prayer, "Mitakuye Oyasin," or, literally, "We Are All Related." This part of our American family needs our help. Please do your part and spread the word to your friends, your neighbors and your elected officials. By increasing awareness, you will be doing something meaningful to help.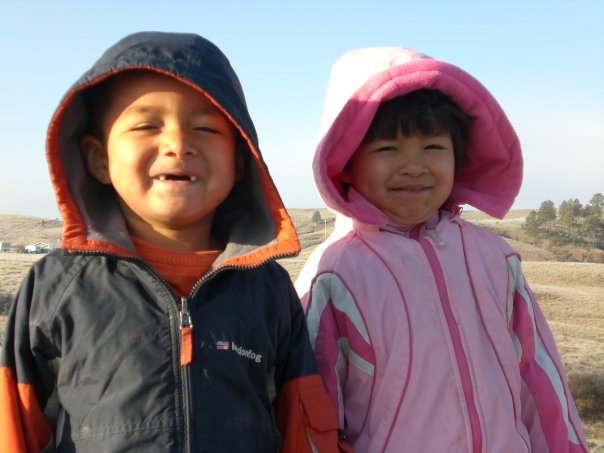 Two of our favorite residents of Pine Ridge. They hold onto hope for a better future. We would like to keep it that way!
Please consider filling a Backpack for a Lakota child on the Pine Ridge Reservation.  If you are registered on Facebook, then you can access information relating to this drive on our Facebook Page, under our Events tab.  If you are not on Facebook, then you can contact us at lakotakids@gmail.com and we will send you all the information that you need to help.
We were recently contacted by the Principal of a school, who told us that his students are suffering from low self-esteem due to the continuous snow and the unprecedented rise in teen suicides on the Reservation.  He said that children are questioning the value of an education and of continuing their lives.  Most weeks the school's attendance rate is only 25%.   We have provided aid to his school in the past and he asked us to do something to lift the spirits of his students.  So, we launched our first annual Fill A Backpack drive.
We have teams shipping filled backpacks on March 6, 2010 from various cities throughout the country and from some foreign countries as well!  Backpacks will be stocked with crayons, markers, paper, calculators, new sneakers, non-battery operated gifts, popular children's books and other items.
We will be on the Reservation from March 13 through March 18, 2010 with a team of Colgate University students and faculty on a service trip.  We will distribute the backpacks directly to Lakota children. 
Make the day of a Lakota child.  Let them know that someone outside of their community cares about them.  Please help us to help Lakota children maintain hope for a better future. Enlist the help of your friends and families to make this our most successful drive ever!
Attached is a link to an article about efforts that are being made to assist Lakota children who are suffering as the result of a year that brought an unprecedented number of the tribal suicides.  In December of 2009, President Two Bulls declared a tribal Suicide State of Emergency.
Attached is a link to an article about Lakota Children's Enrichment's founder, Maggie Dunne. The Colgate University publication, which is circulated to all Colgate University alumni, students, parents and friends of the school, discusses how Dunne came to form LCE, and her continuing pledge to help the Oglala  Lakota on Pine Ridge.
In January of 2010, Maggie Dunne launched Project PEACE (Pine ridgE Aid for ChildrEn) in conjunction with Colgate University's Center for Outreach, Volunteerism and Education.  Project PEACE will work with LCE to promote awareness and to provide aid to Oglala Lakota children living in poverty on the Pine Ridge Reservation.
http://www.colgatealumni.org/s/801/scene_inside_2col.aspx?sid=801&gid=1&pgid=2288#dunne
by Maggie Dunne
Once upon a time there was a barren wasteland where everyone was wasted. The dilapidated homes were full of drunks and the children all dropped out of school, long before High School. Once the kids hit the streets, they roamed together in gangs and they killed each other, daily. Those who were not killed by rival gang members ultimately killed themselves. Everyone who grew up in the wasteland just waited for death to come knocking on the door.
Anyone want to visit this mystical place? Anyone want to give them support?
I didn't think so.
That is how the New York Times depicts the Oglala Lakota Pine Ridge Reservation in a December 13, 2009 article on the emergence of Indian gangs. The article, by Eric Eckholm entitled "Gang Violence Grows on an Indian Reservation" focuses on Richard Wilson, "an unemployed school dropout who lives with assorted siblings and partners in his mother's ramshackle house, without running water," and who reportedly has a "scar on his nose and one over his eye." The author describes Pine Ridge as a "stunning land of crumpled prairie, horse pastures turned tawny in the autumn and sunflower farms … marred by an astonishing number of roadside crosses and gang tags sprayed on houses, stores and abandoned buildings, giving rural Indian communities an inner-city look." The author states that gang allegiances spring from "broken, alcohol-ravaged homes," and offer members "an identity drawn from urban gangsta rap and self-protection." The web version of the article includes video clips of gang members talking about their craft.
The problem with this article is that it fails to report on the cause for the emergence of the gangs and depicts the Reservation as a tsunami of violent crime. Life on the Pine Ridge Reservation is unlike life anywhere else in our great country. Life is tough, people are dying way too early and although many are working for change, it is happening too slowly. The gangs are a symptom of the poverty that consumes the entire Reservation, as are the alarming incidences of teen suicide.
By focusing on an unfortunate symptom without examining the cause the New York Times article serves to fuel those who harbor prejudices and who blame the Lakota for their terrible circumstances. It scares others away. The rising gangs are not responsible for the Reservation's poverty. As long as people are trapped in desperation, there will be desperate actions. The living conditions found on Pine Ridge do not excuse gang life and cases of criminal conduct, but they do explain how the current situation has come about.
In my opinion, the NYT missed the opportunity to have a positive impact on the plight of the Lakota. They missed the chance to not only educate their readers about the perpetual instances of violence on the reservation but also to mobilize these readers to bring change to "the Rez" and highlight the fact that there is hope for the future. Pine Ridge is not a barren wasteland. It is land bound to a series of historical injustices, and the home to people with a rich culture that has survived against all odds. It is not that the Lakota do not want change, but without access to resources and tools that are necessary for societal advancement and security, maintaining stability takes priority, and certainly they cannot do it all themselves. While the NYT article mentions that a few entities are making efforts to reach the troubled youth, it does not explain why the population of troubled youth exists, and thus perpetuates stereotypes and ultimately does not do much to help the Lakota.
The NY Times might have missed this real reporting opportunity, but it is not too late for the future, just like it is not too late for the youth of Pine Ridge.
By mobilizing or encouraging people to eliminate the poverty on the Pine Ridge Reservation, the gang violence will cease… Now, that would be news!
http://www.nytimes.com/2009/12/14/us/14gangs.html?_r=1&scp=1&sq=pine%20ridge&st=cse